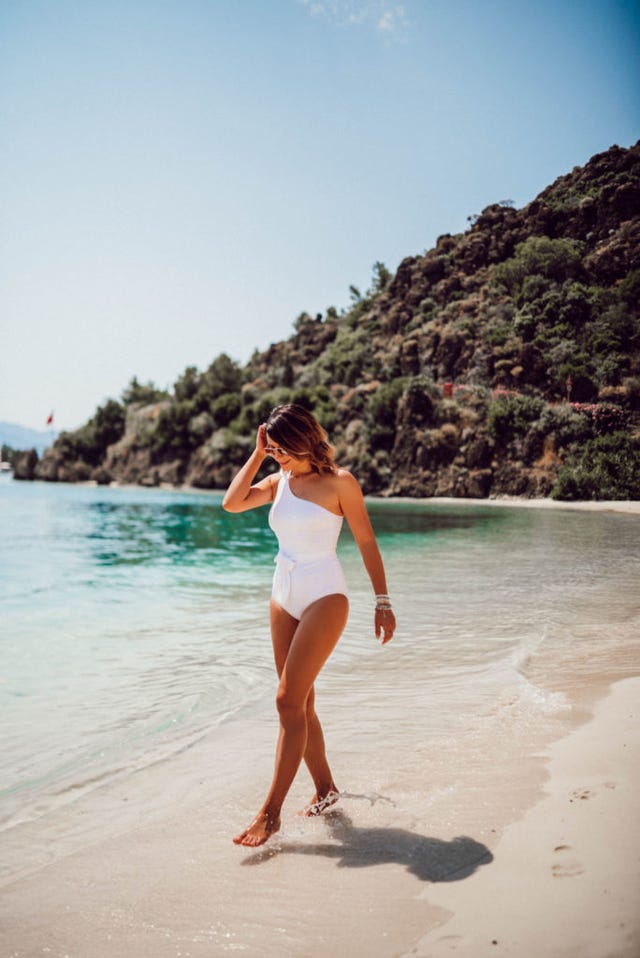 Elena Sandor – treated with CoolSculpting. For illustrative purposes only.
"I was tired of wearing Spanx!" laughs Elena Sandor, the 37-year-old face and founder of EatWearTravel. She's explaining why she decided to try CoolSculpting. "I had given birth a few years earlier, and while I'd lost the baby weight, there were small pockets of fat on my stomach that just wouldn't budge. I later found out that made me a good candidate for the procedure." CoolSculpting isn't for weight loss and doesn't promise a quick fix, rather it aids the reduction and contouring of those stubborn fat bulges that won't go away even with regular exercise and a healthy diet. It can treat many areas of the body but common areas are under the chin, abdomen, flanks and inner thigh. CoolSculpting is backed by scientific proof with over 70 peer-reviewed papers** and data that shows up to 27% fat reduction in the treated area.† 90% of CoolSculpting patients are satisfied with their results.
"The technology does exactly what it says—it freezes fat," says Mr Patrick Mallucci, plastic surgeon and founder of Mallucci London. "The device is designed to cool down to -11c, cooling down the fat cells to the point at which they freeze without effecting the skin and other cells." Essentially, the fat freezes to the point where it "dies", and then slowly dispels itself through the lymphatic system over a number of weeks‡. If that all sounds a little scary, fear not. The procedure is straightforward, generally comfortable and has minimal expected downtime.
Elena's procedure targeted four regions on her abdomen, resulting in just under three hours in the clinic. "I sat browsing TV while a vacuum-like applicator started suctioning the targeted areas of fat – each region took about 35 minutes," she says. "The applicator feels very cold at first, but it numbs your skin, so it wasn't painful." The worst part, according to Elena as well as the practitioners who administer the procedure, is the two-minute massage that comes after the session. "It's necessary as it helps to increase the final results that you see." says Elena. "It was really uncomfortable, but it was over very quickly!" And then after three hours (less, if you're targeting less areas) that's it—you go home, go about your daily life, and wait for the results to kick in. "With CoolSculpting, there's typically minimal downtime," says Mr Mallucci. "This is what makes CoolSculpting an alternative to liposuction for some patients. It takes slightly longer to see the final results, but with no surgical intervention or associated downtime."
As for those results? They can take up to 10-12 weeks to show up, but Elena saw them far quicker than that. "I actually couldn't believe it. Even the team at Pulse Light Clinic, where I got the procedure done, couldn't believe how quickly I saw results and how transformative they were." Some practitioners will suggest following up with a second round of treatments, but Elena's results were achieved after only one session. "I would happily have CoolSculpting again," says Elena. "The treatment slimmed and contoured my stomach, adding definition in a way I hadn't seen since before my pregnancy. I really can't recommend it enough."
---
Find your nearest clinic and book a consultation to see if CoolSculpting is right for you at CoolSculpting.co.uk

Advertisement produced and funded by CoolSculpting.
UK-CSC-2150170. Date of preparation: September 2021
*Based on HCP tracking market research in the US, UK, Germany, Canada, Brazil, China and Australia (N=526), and global market research of the overall body shaping and skin tightening market.
**As of December 2020. Additional publications may exist that are not captured by a PubMed search, for example conference abstracts or journals not indexed by PubMed. Off-label use of cryolipolysis devices was excluded. Includes English language publications only. † 27% refers specifically to the lower abdomen.
‡Data obtained from cryolipolysis investigations using a pig model.
This content is created and maintained by a third party, and imported onto this page to help users provide their email addresses. You may be able to find more information about this and similar content at piano.io