CHAPEL HILL, N.C. — Storm Duck's first collegiate snap came unexpectedly in the first quarter of the game against South Carolina in 2019. Duck was a true freshman forced onto the field due to a suspension and an injury in the North Carolina secondary.
The play call from first-year defensive coordinator Jay Bateman was man coverage. Duck lined up and played zone coverage. "That wasn't very good, but I thought after that he settled in pretty good," Bateman said after the win.
The Boiling Springs, S.C. native went on to have one of the best true freshman seasons by a corner that year. He was named third team on Pro Football Focus' All-Freshman team that season. He played 13 games, started in nine, and finished with 37 tackles, two for loss, five pass breakups and two interceptions, including a pick-six in the Military Bowl against Temple.
It was a curtain call performance against the Owls by Duck. Five tackles, two for loss, one QB hurry and the pick-six to close out the season. It positioned him for success moving forward.
But then injuries came. He started the first two games of 2020, but his season came to an end due to a foot injury. He rehabbed during the offseason, experienced a minor setback during UNC's 2021 fall camp but finally found the field against Virginia in Week 3.
However, Duck only got through 26 snaps before he had to come off the field again.
"I wouldn't really say a setback as far as coming from a confidence level," Duck said about not playing after the Virginia game. "When you don't feel like you could do what you can do for your team, that's the way I felt."
Insert A.J. Blue.
Officially listed as an assistant strength & conditioning coach, Blue is UNC's return-to-play coordinator. He says he hasn't seen a single full practice this season because he's with the injured players.
Bateman and head coach Mack Brown told Duck after the Virginia game, "Hey, look, man. Get healthy and whenever that is, let's play."
So, Duck and Blue were connected at the hip, working toward a common goal: Get the star corner laced up and back on the field.
"The biggest part in the reason why Storm is back is because, one, I think it's our relationship," Blue said. "For us, especially my role as the return to play coordinator, I think it's communication, constantly asking him questions. How does it feel? It could be every rep. I might ask him upwards of 30 times throughout the session, how does this feel? How does this feel? I critique things here and there based off of the response I get, and there's where the trust comes in.
"I think we have a pretty good relationship and every return to play guy that I see, I try to build that relationship first because if a guy is injured, then obviously he's hesitant to move forward in a way that he isn't comfortable with, but sometimes that's what the body needs."
Blue said those training sessions were upward of five times a week. If the team was practicing, Blue was in the weight room with his return-to-play guys. During the offseason, Duck was going back-and-forth between practice and sessions with Blue, but after he needed more work on his foot following the Virginia game, it was all Blue.
"I just slow cooked it," the former UNC running back said. "I didn't pressure him into anything. I just wanted to be the person that he could trust first before I started to give him all these exercises and all these drills that are really challenging, really trying to figure out is it pain? Is it just a little discomfort or are you actually hurt? And that took a real process to kind of figure out which was which. And like I said, without our relationship, without him trusting me to do that, then I don't know where we would be at this point."
As the relationship evolved, so did Duck's strength and agility. Blue ran all of Duck's lifts, runs, jumps and drills. The process reached its pinnacle two weeks ahead of UNC's matchup against Wake Forest. Duck might not have known the journey was near its end, but Blue certainly did. He said he knew Duck was ready a full week before the sophomore defensive back.
"And man, it was just so cool to see him get in and out of his breaks and look on his face when I would say, 'How was that one? How did that feel?' And he would be like, 'That felt great. I didn't feel anything,'" Blue said. "If anybody knows Duck, they know Duck doesn't get excited about a whole lot. He's even keel, but to see his face and his demeanor through these hard change of direction drills, these hard jumping drills, and he wouldn't feel anything, that's when we kind of knew we were getting to that end point."
As even keel as Duck may be, a near two-year battle, near two-year grind, near two-year span without the sport he loves is enough to make anyone's emotions exude.
Duck told the staff the Sunday before Wake Forest he was ready. He knew he could be the player he was before the injury. He slowly worked his way back into practice, and when it came game time, Bateman threw Duck out there on the third series; a plan Blue wasn't aware of.
"If you've ever seen me on the sidelines, I'm sprinting down and back, I'm jumping," Blue said. "And I looked out there, and at this point when I saw him Saturday, he was across the field. He was on Wake's sideline. I'm like, hold on. Is that Duck? I got super excited. And I was like, I'm not gonna say a word to him. I'm going to let Duck be Duck."
And that's exactly what the 6-foot-1, 205-pound corner did. He played 71 snaps – the third most in his career – and was targeted nine times, allowing three completions for 18 yards, two after the catch, including making a stop on a crucial fourth down in his first game in seven weeks with barely a week of practice under his belt.
After the game, while students and fans alike stormed the field to celebrate with their Tar Heels, Duck was found sitting on the bench, helmet off, head bowed into his hands, clearly emotional despite being tabbed as 'even keel' by Blue.
"It was really emotional," Duck said. "Not being able to play for that long, it was hard. But the mindset I have is there's always someone in the world that has it worse than you. So you can't just sit down and complain about it. You just gotta keep moving on with life. That moment was really big for me, just knowing that I came out there and helped the team out and at the end of the day, we got the win."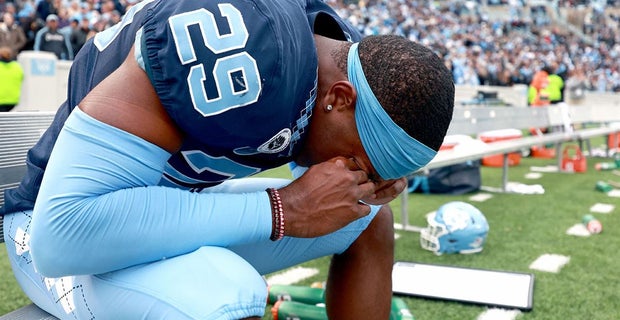 The emotions carried over to his defensive coordinator during Bateman's weekly media availability.
"I love Storm Duck," Bateman uttered while getting choked up. "The most frustrating thing, I'd say, has been physically, a kid who looks like he looks and runs like he runs when he's healthy and not been able to get over the hump with this injury. But I think we're there now. I think it says a lot about a kid. I think it says a lot about a kid who's got aspirations to play professional football, to come out and say, 'Hey, Coach. I need to go and I'm gonna go do it with four games left.' That kid's a stud, man, so I'm glad he's with us."
Duck's teammates mimicked Bateman's sentiments.
"It was a beautiful thing to watch, if I'm being honest," true freshman Power Echols said. "Just seeing him put the time in, in rehab and just working hard in the offseason and just getting back healthy and getting back right and just staying up. I'd say that's been one of the most beautiful things I've ever seen. Just seeing where he's gone and just seeing that it's like anything's possible to be honest."
Sam Howell, Duck's roommate added: "I think it means everything to this team. Storm is one of my best friends on the team. He's someone who's been through a lot over the past year. He had an injury that probably shouldn't have taken as long as it did for him to get back. He just stayed up and just kept working. He didn't get down on himself. He didn't pout."
Those emotions are in the past now. Duck said he just wanted to get healthy and help his team win. The setbacks played a toll on his confidence physically and mentally.
"But now that things are running, I'm feeling really good so the main goal is just progression and getting one percent better every day," Duck said.
That progression continues against Heisman Trophy candidate Kenny Pickett and No. 21 Pittsburgh. Back-to-back Heisman candidates for his return. Welcome back, Duck.