The Peninsula Jewish Community Center in Foster City has hired Jordan Shenker as its next CEO, with the JCC lifer from Portland excited to come to the Bay Area to be closer to family and connect with the community.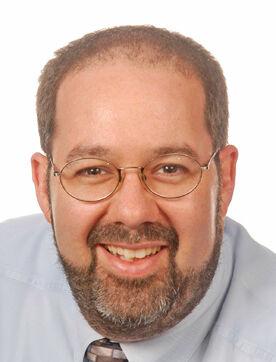 "My wife and I were thinking, particularly during the pandemic, how difficult it was to be away from where our families are, and we were drawn to the notion of getting back to family, to the West Coast," Shenker said.
The Peninsula Jewish Community Center, known as PJCC, serves as a community and fitness center for various exercise programs, aquatics, strength training and fitness classes. Located at 800 Foster City Blvd., it also has preschool and after-school services for kids and serves as a community center hub for many in the area. Shenker is taking over from PJCC Interim CEO Fred Weiner, who has led the organization since May following the departure of former CEO Paul Geduldig. He will start at the PJCC in February after completing his time with Kaplen Jewish Community Center on the Palisades in New Jersey.
A self-described JCC lifer, Shenker has been a part of the organization as an attendee or employee for most of his life. His first job in high school was working in the game room for the JCC. Before working in New Jersey, he was senior vice president of community services for the JCC Association of North America in New York. Shenker served as CEO for the JCC in Richmond, Virginia, and contributed to JCC operations in Houston, Texas, and in his hometown of Portland, Oregon. A fourth-generation Oregonian, the opportunity was a natural fit for him and his wife to return to the West Coast. He has ties to the Foster City area, as his uncle, who grew up in San Mateo, worked at the PJCC as the CFO when it was in Belmont. His cousin also lives in Foster City.
"The only thing I have ever done professionally is work in the JCC movement, so I know it's the career I always knew I was going to be in," Shenker said.
He sees the PJCC as uniquely able to cultivate and build social connections, with opportunities to target different communities to connect in meaningful ways. He wants to provide opportunities for all community members to grow and enrich themselves for a lifetime.
He noted there is a finite list of Jewish organizations in San Mateo County, with PJCC a central institution to enrich Jewish life in the area.
"What do we want enrichment of Jewish life in San Mateo County to look like, and how can the JCC be a linchpin in making that happen. I have no idea what the answer to that question is, but I think it's a fascinating question to which I am really excited to get an answer and work in partnership with others to see it happen," Shenker said.
He expects to listen and ask lots of questions about community needs and to see if there are places the organization can make a difference and continue long-standing partnerships.
"We don't want to reinvent the wheel. We don't want to recreate things that are already happening in the community," Shenker said.
The PJCC must also deal with the long-term fallout of the pandemic and the subsequent shifts. For example, Shenker noted the fitness industry had changed forever, with a portion of people now deciding to exercise at home, with close to a third of fitness businesses going under during the pandemic. It will likely take several years before anyone knows what the future of the fitness industry will become. He expects the JCC to focus on providing a place for social connection for fitness and overall programs and services following the pandemic. Opportunities for program expansion in the coming years are possible based on market opportunities, capacity and the strength of the PJCC.
"Jordan will help us navigate through and beyond pandemic recovery — for reimagined mission expression, stronger community engagement, enhanced Jewish impact, and operational growth so that we flourish once again. We are confident that Jordan will be the inspirational leader the PJCC needs now," Phil Strause, PJCC board chair, said in a press release.