The next time McKinley Wright IV walks into the CU Events Center, it will be as an alumnus and a fan.
Yet his presence can still be felt within Tad Boyle's program as Colorado prepares for its first season since 2016 without the program's all-time leader in assists.
Despite his 6-foot frame, Wright IV couldn't have left bigger shoes to fill in Boulder.
"McKinley's loss is a big one," Boyle said at CU's media day last week.
Even that comment from Boyle might be an understatement.
For four years, the identity of Colorado basketball was Wright.
He's not only the best passer in program history, but he's also the Buffs' all-time leader in games with double-digit points and double-digit assists. On the Pac-12 level, he's the only player in conference history with 1,800 points, 600 assists and 600 rebounds.
So, the biggest question surrounding Boyle and the Buffs this season is: How on earth do you replace a player like that?
"We were very McKinley Wright dominant last year, and have been the last four years, which, for good reason," Boyle said. "He's a heck of a player who made unbelievable plays and we won a lot of games. This year's team's gonna be different because we're gonna be a little bit more balanced. I think we've got a lot of weapons that can really hurt people offensively."
The obvious answer and the likely starting point guard on opening night is sophomore Keeshawn Barthelemy.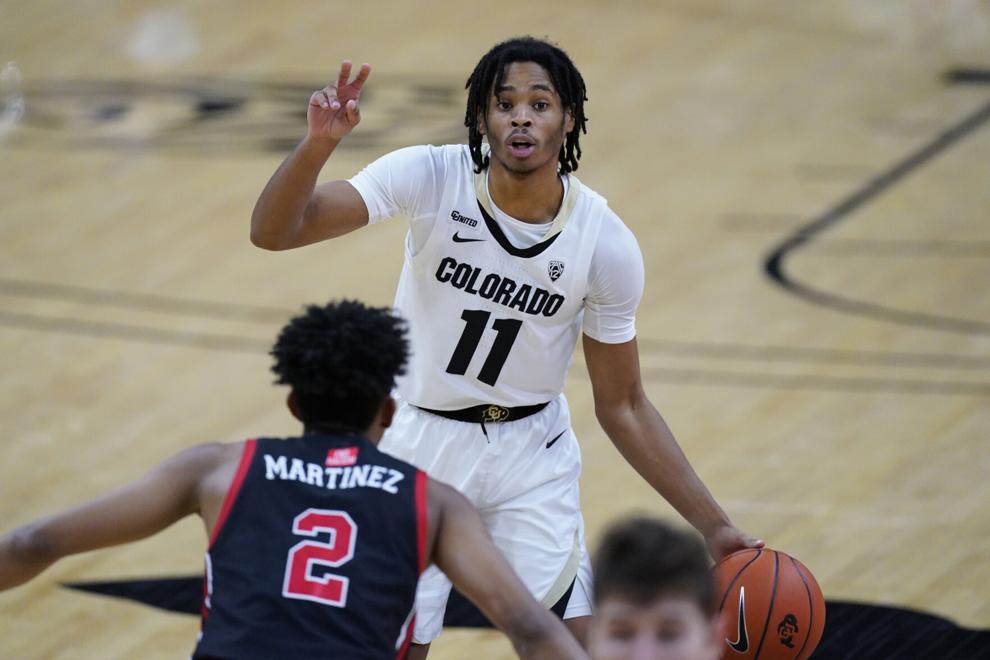 "Keeshawn had the most difficult role on our team last year backing up McKinley," Boyle said. "He didn't know if he was going to play, or how much he was going to play. There were times where McKinley went down with what we thought was a concussion and he came back and Keeshawn filled in, I thought admirably, when he was called upon."
One of those big moments for Barthelemy came in the semifinal game of the Pac-12 Tournament against USC. Wright took an elbow to the head in the first half and missed a few minutes of action. Barthelemy knocked down a pair of threes in that short stint as the Buffs knocked off the Trojans, but the overall body of work just wasn't consistent enough to get a real sense of Barthelemy's capabilities as a starter with big minutes.
"He just didn't get the significant minutes that he needed to prove what he can do," Boyle said. "He's going to get that this year, so he's capable, but I don't want to put it all on him."
If he were asked to fill Wright's role all by himself, that might be an even tougher situation for Barthelemy than he had last year, but luckily he's got two talented freshmen that are eager to prove themselves and contribute in a big way this season.
"We've got two freshmen guards in KJ Simpson, and Julian Hammond, who are fully capable as well of running the team and playing point," Boyle said. "I look at it as a three headed monster. Some of those guys will play together in the backcourt. We can play with the three-guard lineup, you know with Eli, Keeshawn and either KJ (Simpson) or Julian, or KJ Julian and Eli the three. This team is going to have a lot of versatility."
Simpson is a 4-star guard out of Southern California with a quick burst and an ability to rise up for an eye-opening dunk when he gets near the rim. Hammond is the local kid out of Cherry Creek and is focusing solely on basketball for the first time in his life after a successful career as a high school quarterback.
"I think the longer he is here, is getting more and more comfortable and more and more confident," Boyle said of the freshman out of Denver. "One of the things Julian and I have talked about is the fact that this is the first time in his career, where he's been able to concentrate on basketball all summer, and all fall. I think that's really going to benefit him this winter. Usually he's on the football field and that's been great. Playing football at Cherry Creek for Dave Logan has prepared him well in terms of being a competitor and his toughness level. It's exciting to look at his ceiling as a basketball player now that football is out of the equation and Julian is going to be a terrific player before it's all said and done."
The first few weeks for any college freshman can be a challenge, even if you're going to school in close proximity to where you grew up. But adding in a full schedule of practices and workouts on top of classes can be overwhelming.
"It's a lot of time management, but I think it helps me grow up, for sure, especially as a freshman," Simpson said. "That carries over to practice because being a freshman isn't an excuse and coach is looking for us to step up. We need that maturity, we need that growth."
The challenge is even greater for Hammond, who didn't have the benefit of playing in a high school environment as competitive as Simpson's and also missed out on playing in AAU tournaments in the summer of 2020 due to COVID-19.
"At first, it was really fast," Hammond said of his first few practices. "Playing Colorado high school, it's not the highest level of competition and then not having that AAU summer going into my senior year, it was like I haven't played against real competition in a long time."
Even with the season right around the corner, Boyle knows it's going to be a work in progress for Simpson, Hammond and the entire freshman class. There will certainly be bumps along the way, but he's already made them clear about what's in front of them this season.
"I have told them, I am not going to coach you like a typical freshman," Boyle said. Because last year, Tristan (da Silva), Nique (Clifford), Luke (O'Brien), Jabari (Walker) they were typical freshmen because they had a bunch of seniors that I could rely on. They could just be freshmen and they could play well and not play well. You obviously want them all to play well when they get their opportunity but we didn't need those guys like we need some of them [this year]. We don't need all four of them this year but we need a couple of them to step up and be ready when their number is called."
The pressure of playing big minutes as a freshman and replacing a player of Wright's stature can weigh on a young player. But Hammond and Simpson are embracing every second of it because they know that the blueprint is there for both of them to become the next McKinley Wright.
"He came in here as a freshman and developed and grew," Simpson said. "He made a path for us guards to follow. With him leaving, it leaves a lot of pressure, but as a freshman you want that pressure, you want to carry that weight on your shoulders. We're ready to take on that challenge."