Spirits were soaring at Fort Belvoir Community Hospital in late October as two large, white tents thrust into the blue Virginia sky in front of the main entrance. 
Hospital and Army Health leaders, joined by a group of former hospital directors, gathered to celebrate more than the hospital's 10th anniversary – they were there to remind patients and staff that evidence-based medicine can become the core of excellent health care, said retired Col. Charles Callahan, a physician and director of Community Hospital when it opened. 
Callahan said his predecessor at Belvoir's DeWitt Hospital, which was being closed, had pushed every metric of quality, so much so that the Surgeon General's Office had recognized DeWitt as the best in Army medicine.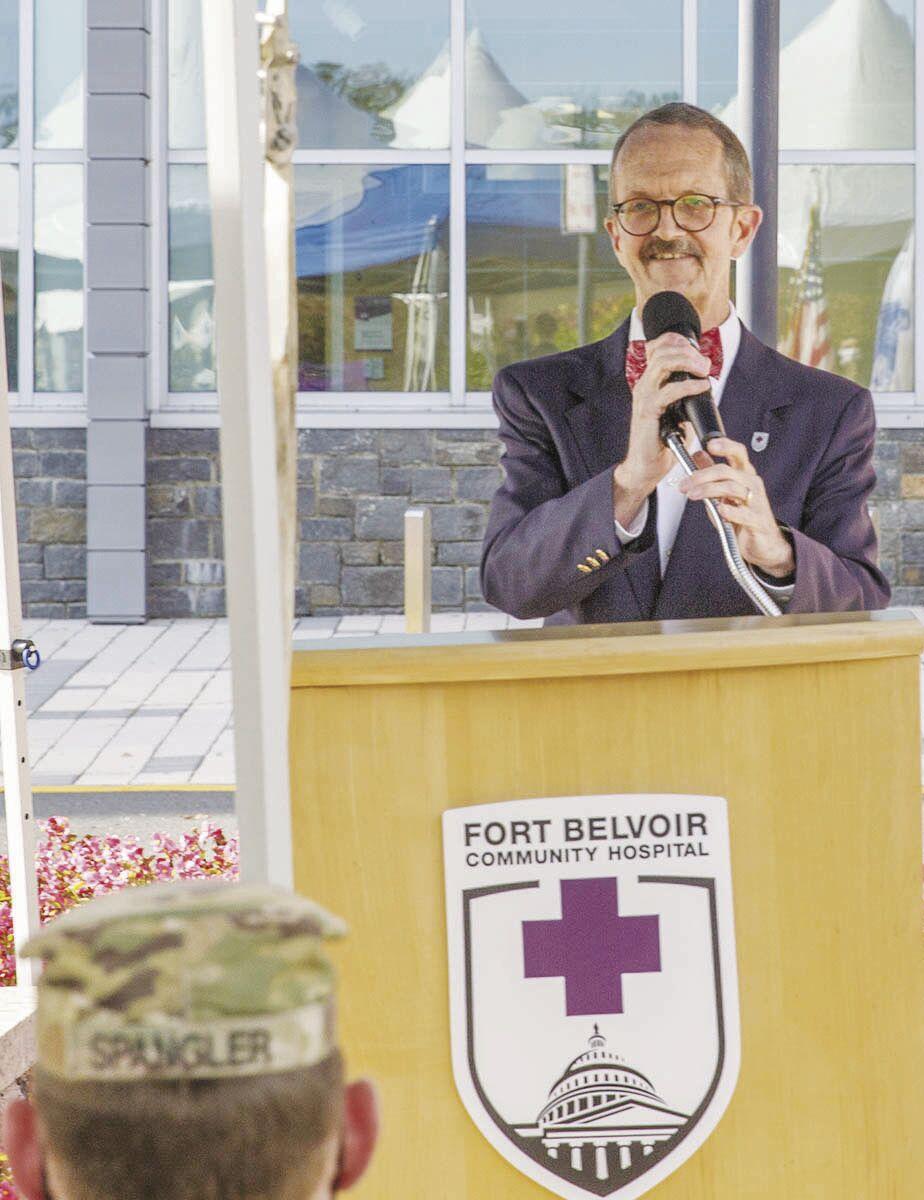 "And it was not by a little," Callahan said. "While Walter Reed was reeling under the weight of national negative headlines [about the poor conditions for wounded warriors], DeWitt had quietly become the exemplar of the very best military medicine can be." 
But Callahan said the staff was not satisfied and began talking about how the hospital could weave the culture of excellence into its fabric. He based care on Baptist Health Care in Florida, which had spent 20 years honing excellence. 
Callahan recalled that when he arrived in the summer of 2008, about six months into construction, the new hospital, authorized by the Base Realignment and Closure Commission in 2005, still had no name. He and another of the hospital's leaders decided, "Let's just start calling it the 'Ft. Belvoir Community Hospital' from the language in the BRAC law – with deference to its location and history and commitment to the community it serves."
The goal for the hospital was to provide patient-centered primary care and family medicine and to provide primary care for recovering wounded, ill and injured service members, as well as continuing an acclaimed joint training program, Callahan said.  "It was going to be the place where, 'Patient and family-centered care met evidence-based design in a culture of excellence.'" 
That phrase became a vision for the hospital, he added. "We had the best physical plant and people of any hospital in the nation. Why shouldn't we?" 
Callahan said that a decade later, the triad of excellence has come to fruition. He noted that planners anticipated the hospital would handle 650,000 outpatient visits, split between primary and specialty care. 
"For the last three years, we've crested a million outpatient visits in the entire hospital," he said. "And it's a real credit to the design of the facility to be able to accommodate what we felt was going to be some tremendous volume of patient care in the future." 
Callahan noted that military medicine represents the best of what American medicine could be, stressing that team members exemplify that care by never forgetting the "why."
"On labor and delivery, there is a mother about to deliver her child. Her husband is deployed and she has recently only seen him long enough for her to realize that he is a different man than the one she married. She brings this child into the world without him at her side. She wonders whether he will ever really be there again," Callahan said. "Amid the joys of childbirth, she is petrified that she will have to raise this baby alone. You know her story. You will ask and listen –  because you remember why."
Or in the emergency room, "the veteran whose infected fingernail you are treating flew B17s in World War II. He appears much younger than his 85 years so you might not think to ask why this retired lieutenant is eligible for care. He wants to tell anyone his story of the proudest, most meaningful moments of his life spent over the skies of Europe as a young man. You will ask and listen – because you remember why."
Or in physical therapy, "a young man sits with hollow eyes whose back hurts, but whose real pain is that he never recovered from the loss of the men who died without him in the explosion. What's more, he has never come to terms with the haunting images that stalk his dreams every night of young men seen through his M4 scope," Callahan said softly. "No one has ever asked him about a story he has never had the courage to tell. But now he is ready. You will ask and listen because you remember why." 
He noted that other medical facilities in the area can all provide the same services. "But none of those providers will think to ask the questions that are second nature to you. So none will hear the stories."
Col. Joshua SeGraves, garrison commander, said recognizing the anniversary was important for the community, describing Fort Belvoir as a region, not just a name. He thanked Rear Adm. Anne Swap, director of the National Capital Medical Directorate, for her team's excellence.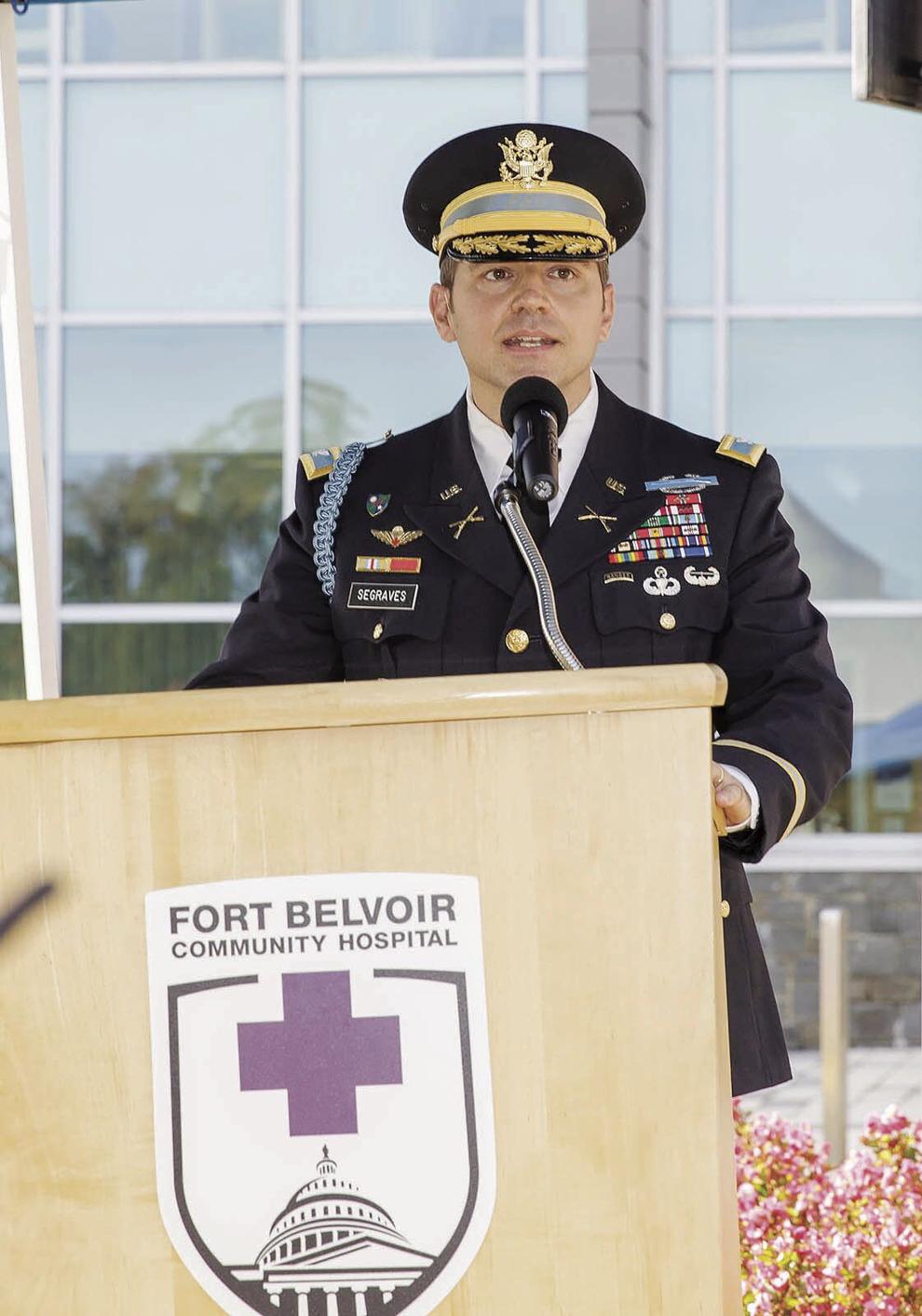 "I greatly appreciate that this team at the hospital has been at the forefront of the pandemic, with prevention, public health and vaccinations to get where we are now. This was an absolutely critical part of keeping our community safe," SeGraves said.
Col. Brandon Beauchamp and his wife were on hand to cut the ribbon with their daughter, Bethany, who was the first child born at Fort Belvoir Community Hospital in August 2011.