Nov 9, 2021
Regardless of the weather, if you're a cyclist and it's Sunday all roads likely lead to an enclave of commercial warehouses and office parks in Doral.
Nestled west of Miami International Airport and the Norwegian Cruise Lines headquarters, the area is filled with office parks and secluded streets that make it perfect for a "crit race" – a bicycle race with a specified number of laps on a closed course over public roads closed to normal traffic. And one recent Sunday there saw cyclist Sheerie Edwards realize an important milestone.
The setting was significant not only to her, but to her supporters and the two other predominantly Black cycle clubs that were there to see history being made.
Edwards, as the only Black woman out of more than 40 female cyclists, was easily identified in the peloton, or group of riders, and was on the cusp of having her name written in the canon of cycling history makers. At 4′ 11″, the "pint-sized powerhouse" is considered a local giant in the sport. Her journey started during the COVID-19 lockdown.
A graduate of Florida A&M University and the former Miss FAMU 2007, Edwards was home recovering from surgery when lockdown started in March of last year. The avid gymgoer, searching for a pandemic-safe workout, turned to an old mountain bike in her storage room.
"I needed to get back into shape," Edwards said. "I couldn't even last 10 to 15 minutes on that thing. I needed a way to stay active."
After pedaling around the neighborhood on the clunker, she decided to purchase a much newer and lighter hybrid bike.
"I started building up my endurance and joined a group of friends to ride," she said. "Then I invited my Delta Sigma Theta Sorority sisters to ride together."
Getting better and faster became her goal; seeing cyclists zipping by on their much lighter, sophisticated carbon road bikes was a motivation – and brought about a turning point.

"People passed me by on their road bikes, I mean, just really fast! I was like 'What is this?'" said Edwards. "From that moment on I researched and bought my first road bike in July, and the rest was history."
After purchasing the new bike, the next step was finding a group of like-minded people to help her continue her cycling journey.
"I came across Level Up Cycling Movement; they offer a 'Tuesday Training Ride' specifically for beginners. And I knew that I needed the basic road safety and cycling fundamentals the class would provide."
A mélange of pro- and master-level cyclists and cycling enthusiasts of color, Level Up was established to introduce cycling as a health benefit to minority communities while providing exposure to the sport.
"I met great people in the club, especially Luis Scott, who led the Tuesday training rides," said Edwards.
She faithfully attended all beginner ride classes, learning basics such as riding in a pace line, how and when to change bike gears, clipping and unclipping from the pedals, and what types of cycling gear to buy, called "kits." It was a lot to learn and invest in, but the payoff came quickly. Soon, purpose summoned Edwards beyond the beginner rides.
"I was asked to lead Level Up's Tuesday morning ride called the 'Tuesday Jump Off' at 6 a.m., where speeds are a sustained 23 mph pace for 28 miles nonstop," said Edwards.
She also began riding at faster speeds and doing more rides with other established groups for the remainder of the lockdown.
"I would ride with CTR (Century Towing Riders) and my confidence grew," said Edwards. "CTR gave me the challenge that I needed. They're well known for fast group rides while riding distances of 23 to 100 miles per session. It was definitely the missing piece I needed to elevate me."
Cyclist Sheerie Edwards sits waterside as she reflects on a tough training ride.
(Courtesy of Sheerie Edwards)
It was as a member of the group, after furthering honing her speed, strength and skills on technical group rides, that Edwards earned her "pint-sized powerhouse" moniker.
She remained committed to her training even after returning to work early this year. Participation in more and more group rides with other groups, which were often male dominated – she often found herself the lone Black woman riding among a sea of mostly white faces – improved her cycling prowess. She eventually found her way to the Doral Criterium Race, but as a spectator.
At the time there were no women-only race categories; the only option was competing in the men's categories. But when a women's race was finally established, Edwards was ready to meet the challenge.
"I knew showing up in a bike race as the only Black woman would be a heavy task as a newer cyclist competing with women that have over 15 years of racing experience. I knew it wouldn't be easy. Everything was going to be earned outright, like demanding my spot in the field and fighting to keep it," she said.
Edwards spent three months training for the crit. The day saw her family, friends, sorority sisters and supporters wearing T-shirts emblazoned with "Pint-Sized Powerhouse" and lined up to take pictures and extend well wishes as she moved to the start line. Her presence was noticed.
"I got the looks of course, I felt it," recalled Edwards. "The others were racing with teams and knew each other, while I was racing independently. But I simply focused on the moment."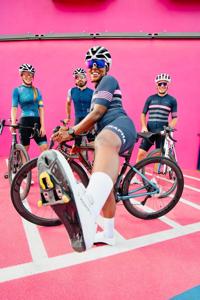 Sheerie Edwards shows off her Rapha gear as one of the performance roadwear brand's new ambassadors.
(RCC Miami)
When the race started, she immediately and aggressively maneuvered for a decent place in the peloton as not to get left behind, or what the cycling world calls "dropped." Lap after lap well-wishers screamed and shouted "Let's Go Sheerie!" The encouragement helped buoy her into the "Top 10 Finishers" list as a first-time racer, a rare feat for a new cyclist in a field of experienced riders. Her performance that day led her to becoming a local ambassador for Rapha Cycling Club, a high-end cycling lifestyle brand that sponsors Tour De France cycling team Education Foundation and premier crit race cycle team Legion of Los Angeles that's owned by the Williams brothers, two Black men from Compton, Calif. The affiliation is quite the coup.
"When I was asked, I was like, am I ready for this, will they accept me?" said Edwards. "In South Florida, cycling is white- and Hispanic-dominated. The Rapha representatives told me, 'We want you, we need you!' [They're] big on diversity, inclusion and greater equality. I am happy to be associated with a brand that is committed to those three points in and outside of cycling, because representation matters."
Today, Edwards is continuing her rides – she's now also sponsored by Big Wheel Bicycles, a popular and long-standing local shop – and has no plans of slowing down. She finished the 2021 race season sixth in her category, a major accomplishment for someone with less than a year of focused race training.
"I'm willing to continue to share my story and share my journey to inspire other women and cyclists," she said. "I'm not here to reinvent the wheel. We have great Black women pro cyclists that came before me, like Ayesha McGowan of Atlanta and Tenielle Campbell of Trinidad and Tobago. They are my inspiration. If I can bring exposure to others while I am on this journey, that's good enough for me."
---
The Miami Times is the largest Black-owned newspaper in the south serving Miami's Black community since 1923. The award-winning weekly is frequently recognized as the best Black newspaper in the country by the National Newspaper Publishers Association.