A random midsummer round of the Championship landed bang in the middle of a month of T20 Blast fixtures. In the battle of the brothers at Taunton, Surrey's Jamie Overton knocked down his twin, Craig, with a bouncer that crashed into his helmet and left him lying prone on the pitch. Jamie strode over, scowled, and marched away. It was the first time he had bowled at his brother in the Championship since moving to the Oval. Craig left the field but returned when Somerset's next man in, Josh Davey, ducked into another Jamie bouncer and had to have a concussion substitute. Despite all the drama, Somerset's tail wagged to take them from 95 for eight to 180 all out.
Jamie Overton, meanwhile, had successfully shown a shimmy of ankle to Brendon McCullum – a man in need of a fast bowler.
A second hundred of the year from George Hill and a glorious 76 from the in-form Harry Brook put Yorkshire in a great position against Hampshire. And while the Black Caps struggled at Trent Bridge, two New Zealanders scored Championship centuries. Rachin Ravindra, a late call-up by Durham to replace Keegan Petersen, rollicked to 178 not out, an elegant innings which helped Durham to an imposing 375 for three against Worcestershire. Scott Borthwick fell four short of his own century. At Canterbury, Glenn Phillips biffed a rapid 125 after Kent's Matthew Milnes had reduced Gloucestershire to 46 for three.
Sam Hain continued in his merry way for Warwickshire, last man out after making 130 at Edgbaston – and a third wicket for Lancashire's George Balderson. There were also a couple of wickets for the New Zealand seamer Will Williams and one for Matt Parkinson – sent back by England to the championship after his Test debut at Lord's.
Middlesex, the Division Two leaders, were rustled out for 251 by Derbyshire, Toby Pettman taking three for 40 on his championship debut. Derbyshire's Shan Masood then scored 27 of the 28 runs possible before stumps. Winless Leicestershire had a happy time against Nottinghamshire after centuries from Lewis Hill and Colin Ackermann, while the 20-year‑old Oli Carter made an unbeaten maiden first-class hundred for Sussex at Sophia Gardens, where Glamorgan's Andrew Salter bowled 33 overs for 65 runs.
Just popping back to say thanks all for hanging around despite distractions elsewhere. Another day of riches for the batsmen, with particular congratulations to 20 year old Oli Carter, and Durham debutant Rachin Ravindra, and some firey fast bowling from a swaggering Jamie Overton. That's it from me for today, back tomorrow. Good night!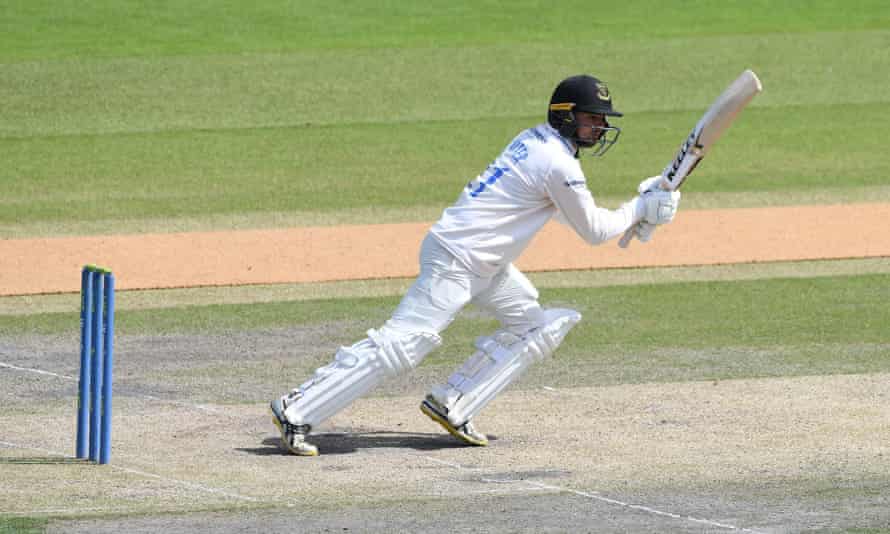 There's been a breakthrough in the one game that has moved into the second innings: Surrey 10-1. Siddle the wicket-taker, Patel caught by concussion sub Aldridge. Right, time for me to write up for the paper. Please do keep updating BTL.
A hundred for Colin Ackermann
A second century of the day at Grace Road, as Ackerman follows Hill to three figures. Leics cruising to 294-4. Pattinson the pick of the Notts bowlers: 14-3-52-2.
An interesting day for England's Test rejects: 76 for Harry Brook, a wicket for Parky (Warwicks 234-6), and runs and a sniff of the turf for Craig Overton.
Events at the Rose Bowl: Harry Brook is out, after edging Fuller to leg slip where James Vince is waiting. But there's a hundred for George Hill, his second of 2022. Yorks 240-3, nicely on top against Hampshire.
Somerset 180 all out. Josh Davey is out for the game with concussion, Kasey Aldridge, his substitute, made three before being lbw to Atkinson. Three wickets each to Atkinson, Worrall and Overton.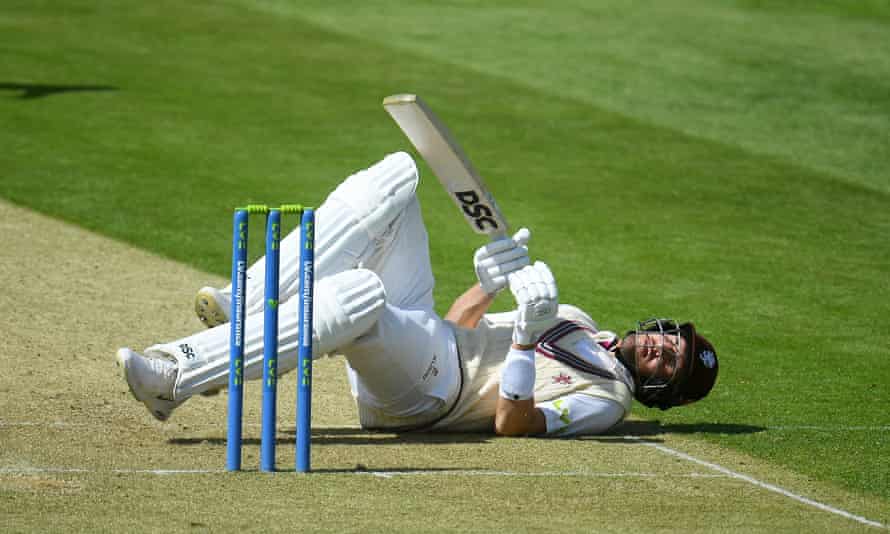 Another century to report – Gloucestershire's Glenn Phillips: 111 not out off just 139 balls- the second New Zealander to score a century in the Championship today. Lewis Hill, 98 not out, is nearly there for Leicestershire; Scott Borthwick fell four short at Durham.
At Taunton, Craig Overton has gone, felled not by his brother but Atkinson, for 29. Somerset 174-9, quite the knock-out fightback from 95-8.
Congratulations to everyone playing here today:
Is that a grin on Overton J's face after putting the frighteners onto his brother?
Division One
The Rose Bowl: Hampshire v Yorkshire 186-2
Canterbury: Kent v Gloucestershire 248-4
Taunton: Somerset 155-8 v Surrey
Edgbaston: Warwickshire 182-5 v Lancashire
Division Two
Chesterfield: Derbyshire v Middlesex 176-7
The Riverside: Durham 262-2 v Worcestershire
Sophia Gardens: Glamorgan v Sussex 161-5
Grace Road: Leicestershire 233-4 v Nottinghamshire
If you fancy Overton v Overton, this is your stream.
It's a concussion assessment for Craig Overton, while Josh Davey ducks into another one from Jamie Overton, who has 3-33, and two knock-downs. Davey goes off the field too, so that's two Somerset batters limping off in quick succession. But Craig is now back! And Jamie greets him with a bouncer. Somerset 147-8.
Yet another one for the man with the Midas touch , this time off 68 balls, six fours, and a six. In ten innings in first-class cricket this season, Brook has only fallen short of fifty once. Yorks 168-2.
Oh no! Craig Overton retired hurt for Somerset, after being hit by his big bustling brother Jamie. Not another England fast bowler down. Somerset 138-8.
Everyone on this list has been tried, except Bohannon. But he'll have to be patient, Harry Brook is the next cab if injury of loss of form strike. Unless, of course, Bohannon fancies being a makeshift opener if the Crawley/Lees couplet doesn't work out.
A century for Rachin Ravindra!
On Durham debut! Fantastic stuff. Incidentally, are my middle-aged eyes deceiving me or does it say Botham on the back of the Durham jumpers?
Warwickshire wobble, 156-5, with Matt Lamb falling victim to Danny Lamb: Sam Hain remains, 58. And incidentally:
Two sixes? Thanks very much. Harry Brook (38) and George Hill (62) get stuck into Liam Dawson. Yorkshire 142-2.
I'd like to put in a complain to the ECB: Root and Pope's batting is off-putting for those attempting GCSE revision.
The first century of the day goes to Leicestershire's Lewis Hill, off just 124 balls, against the rich cousins in the city. Well played!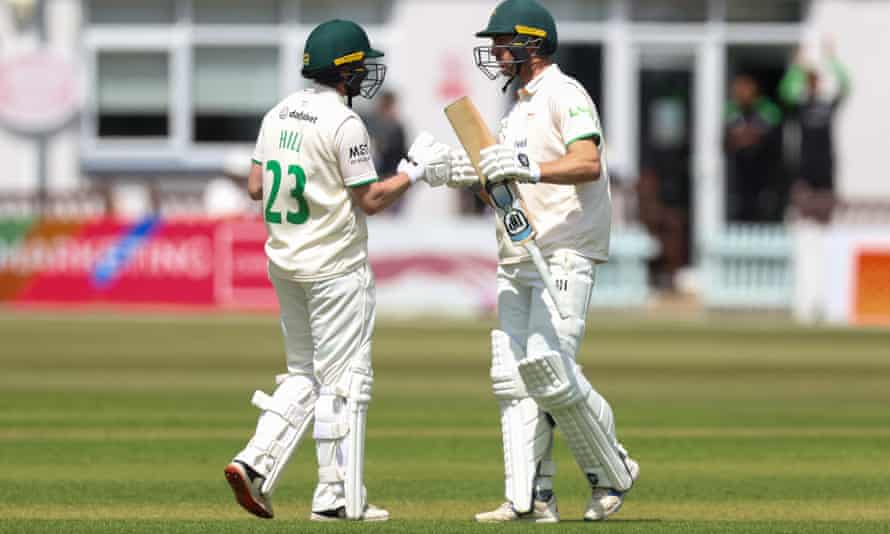 Division Two?
Of course: Starts but nothing more from Middlesex, 131-5, White and Hollman the men at the crease. The wickets shared between a good handful of the Derby attack.
Easy-pickings for Durham, who have raced along to 185-1 against Worcestershire, Ravindra 84 not out, Borthwick 71 not out.
Tom Clark has been caught by Ingram off Salter at Sophia Gardens, but Carter is still there, 59 not out. Sussex 138-3.
Leicestershire 183-2, on a roll too: Lewis Hill racing Ravindra to three figures, 87 not out. Ackermann nearing his fifty.
Sam Hain is continuing his immaculate first-class form, 48 not out at Edgbaston, Warwicks 126-4.
At Southampton, Harry Brook is still there, 17 not out, and an unbeaten fifty for George Hill.
Somerset are subsiding, in the way we have learned to expect. 94-7. Craig Overton and Lewis Goldsoworthy are left to see what they can conjure up with half an onion and a couple of limp carrots. A second wicket for Daniel Worrall.
Runs continue to flow for Gloucestershire at Canterbury, Hammond and Philips knocking up a hundred partnership in quick time. Gloucs 148-3. No space for Darren Stevens in Kent's XI.
Jamie Overton waving his lacy pants at Brendon McCullum. A third wicket and another brutal delivery – Somerset 76-6.
Stop all the clocks, Harry Brook is at the crease. Off the mark with an effortless four down the ground. Yorks 96-2. His arrival was preceded by the run-out of Will Fraine, unlucky with a deflection after backing up.
Another wicket at Taunton, as Steven Davies fends blindly at Jamie Overton and is caught. Somerset 76-5.
Ok, so the Justin Langer story may have been a flyer.
And thanks to the Surrey comms for telling us that this was Ollie Pope's first hundred north of Watford.
Moeen Ali latest
and thanks for the BTL info that Adil Rashid had a great game against Warwickshire after a quiet start to the Blast.
Over in the Test, Ollie Pope has made a hundred, while it has been a quiet ten minutes of the post-lunch session.
And with Leicestershire and Gloucestershire the unlikely high-kicking scorers of the first session, and Somerset in a predictable pickle, it is time for me to grab some lunch. Back shortly.
Division One
The Rose Bowl: Hampshire v Yorkshire 68-1
Canterbury: Kent v Gloucestershire 114-3
Taunton: Somerset 54-4 v Surrey
Edgbaston: Warwickshire 83-3 v Lancashire
Division Two
Chesterfield: Derbyshire v Middlesex 83-3
The Riverside: Durham 105-1 v Worcestershire
Sophia Gardens: Glamorgan v Sussex 97-2
Grace Road: Leicestershire 129-2 v Nottinghamshire
What's up in Division Two:
Stoneman and Eskinazi are heading towards a fifty partnership at Chesterfield, Middx 81-1. All looks gorgeous near the crooked spire.
At Chester-le-Street, Rachin Ravindra, who replaces Keegan Petersen, who had to return home to South Africa, is having fun. Seven fours in his 35 not out: Durham 85-1.
Wet-behind-the-ears Sussex have recovered from 29-2 to 85-2, Tom Clark and Oli Carter doing the rebuilding.
And Leicestershire are suddenly cruising against Notts, 111-2, Lewis Hill 53 not out.
A breakthrough in Southampton! Lyth snaffled at third slip off Ian Holland for 19, Yorks 51-1.
A quick wander round the Division One grounds:
A nice start from Yorkshire: 47-0
Three wickets for Miles at Canterbury, where Gloucestershire rebuild at 64-3.
Somerset's batting continues to look egg-shell brittle. 40-3, with Jamie Overton grabbing a wicket at his old home, Tom Abell for one.
Sibley (28 not out) still there at Edgbaston, Warwickshire have lost Davies and Yates, 57-2.
An unexpected development:
Lyth and Hill have got Yorkshire off to a good start at the Rose Bowl – 45-0 – intrigued to find out if Harry Brook can continue his sparkling Championship form. It will be such a shame for him if he can't make his England debut whilst in such golden touch – but one of Pope ( currently 73 not out at Trent Bridge) or Bairstow would have to make way, and neither feels very likely.
Alex Davies must have been desperate to make his mark against his old county. No cigar this time, a leading edge off Tom Bailey falling nicely to Josh Bohannon – whose own early season form had started to fall away by the end of the first block of games. Warwicks 25-1, Sibley seven not out.
A couple of wickets down at Taunton too – Green and Lammonby: Somerset 21-2. No space this morning for James Hildreth, it all smells a bit like Marcus Trescothick's final season, unfortunately.
A second wicket for Matthew Milnes at Canterbury, where Gloucestershire's season continues to encounter many potholes. First Scott – for a more-than-run-a-ball 27 – then Bracey, for one. Gloucs 37-2.
An early wicket at Grace Road, where Hassan Azad is a first wicket for James Pattinson. I've read nice things about what Leicestershire are doing under Sean Jarvis in the community. Hope he's able to bring about change on the field too.
A little bit more on Lancashire's new (temporary) red-ball signing: Will Williams is a right-arm seamer who plays first-class cricket for Canterbury, NZ, in the Plunkett Shield. In the 2021/22 Plunkett Shield season, Williams was the fourth-highest wicket taker, picking up 25 wickets at 21.52.
Lancs snapped him up because James Anderson and Luke Wood are with England (various) and Saqib Mahmood and Jack Blatherwick have been ruled out through injury.
Kent, Glamorgan and Nottinghamshire doing a Ben Stokes.
Division One
The Rose Bowl: Yorkshire, who will bat
Canterbury: Kent, who will bowl
Taunton: Somerset, who will bat.
Edgbaston: Warwickshire, who will bat (Will Williams makes his Lancs debut)
Division Two
Chesterfield: Middlesex, who will bat
The Riverside: Durham, who will bat. (Taylor Cornall makes his Durham debut)
Sophia Gardens: Glamorgan, who will bowl
Grace Road: Nottinghamshire, who will bowl
If you want to follow the Test, Daniel Harris is up and running:
and a cracking piece by Ali Martin on Trent Bridge's link with all things New Zealand – some fantastic anecdotes, particularly the Chris Cairns-KP big beasts face-off.
Division One
The Rose Bowl: Hampshire v Yorkshire
Canterbury: Kent v Gloucestershire
Taunton: Somerset v Surrey
Edgbaston: Warwickshire v Lancashire
Division Two
Chesterfield: Derbyshire v Middlesex
The Riverside: Durham v Worcestershire
Sophia Gardens: Glamorgan v Sussex
Grace Road: Leicestershire v Nottinghamshire
Good morning! What more could you want than a midsummer Championship game, even if it is shoved somewhat randomly in the schedule between a diet of Blast Games.
I'm not sure how many of you will be along today – what with the Test team doing their business over at Trent Bridge – but do feel free to mull on the season so far either Below The Line or email me at [email protected] If you've been to the Blast, have there been empty seats, or issues with crowd behaviour? Is there an alternative spinner out there in the Championship to throw in the mix with Leach or Parkinson? Have you eaten your weight at the pick your own strawberry farm or read a life-changing novel. CClive! wants to know.