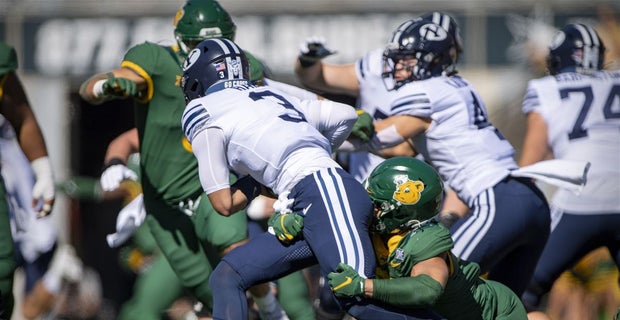 Back where I come from we have a name for the mess of a game that BYU played last Saturday.
As soon as that final whistle blew I knew that this was a "wallpaper game".
You see there was a football coach who coined this phrase based on a certain motivational tactic that he liked to employ. At the end of every season he would select a specific game tape that he would use as a friendly reminder to his players as to what kind of team they were that season. The game that he selected wasn't always the sloppiest game or the game that had the biggest point differential in a loss. Rather the game he selected was the one in which he thought his team got outplayed from a physical standpoint.
In the following offseason, any time the football team had a weightlifting or workout session, this coach would pop in the tape from that game and play it on a TV that sat near the staff desk. Over the course of the spring and summer months it would run over and over and over again, as a reminder to the players that there was a game in which some other football team physically embarrassed them on the football field. He would say something to the effect of…
"This game, gentlemen, is going to slowly seep into your thick skulls and force you to think twice whenever you feel that you've worked hard enough or that you've given a good effort. This stands as a constant reminder that a few months from now this type of game could happen again. You're gonna get sick of it because it's going to be up here 24/7, like some wallpaper, telling you there's an opportunity in this here weight room to right some wrongs."
I'm not here to say if this specific motivational tactic works but the sentiment rings true for me.
The boys got absolutely man-handled and it might serve them right to remember that every single player on that roster needs to come correct.
Now there will be plenty of time for critical analysis of the game, there were still some redeemable performances that we here at CSI would like to recognize. That said, let's get to the Power Rankings.
WEEK 7 POWER RANKINGS
10) Baylor Welcome Wagon
OK wait now just a second. Isn't this supposed to be a ranking piece dedicated to the best of what BYU did against Baylor? Well yes but the way in which the Baylor community welcomed BYU to Waco needs to be recognized. (Well that and it was hard to identify ten performances that were worth celebrating.) At every turn you could see the hospitable nature of the folks down in Texas. There were the welcome signs in the store fronts, the spot in the parade and even the stadium signage that made sure the Cougar faithful would feel at home with their future conference foe. I doubt we'll get the same reception when we start playing other teams in the conference but it was good to know that we're not just an afterthought but a real partner in the future of the Big12.
9) BYU Fans
As wonderful as it was to see the friendly Baylor fans, it was just as fun to see the massive contingent of BYU fans that flocked to Waco to watch our boys. We could honestly add the fanbase to every Power Ranking on the weeks that the Cougars hit the road but this game the fans felt particularly present, especially after the Jaren Hall touchdown run in the third quarter. Even with a couple losses under our belt I know that we'll show up again in Pullman this week and in Statesboro and Los Angeles later on in the season. Well done loyal Cougars. We salute you.
8) Max Tooley
In a game that didn't feature a whole lot of bright spots for the defense, the effort of Max Tooley always stands out. There were two plays in particular where you could see him going for speed to make a play. The first was a pass deflection where Gerry Bohanon was checking off to a receiver on a short route and Max wasn't having any of it. He flew in like a bat out of hell to knock away the pass. The other was a tackle for loss where Max forced his way into the backfield to force one of the few negative offensive plays for Baylor on the day. It was by no means a perfect performance from Max but I have to respect his effort.
7) Kaleb Hayes
I've really been enjoying the overall performance of Kaleb dating back to the Utah State game where he had a few nice plays in the secondary. Just like everyone else on the defense there is plenty of room for improvement but I feel a lot more comfortable with him in pass coverage. He has been flagged a few times for getting a little too physical but I'd rather have that than someone who is giving in and letting big plays happen. So keep up the good work, Kaleb. We're loving what we're seeing.
6) Neil Pau'u
In a game where the other receivers were making the big plays it was Neil who was content to play third fiddle and make the most out of his opportunities. He hauled in five catches for 38 yards with a couple of them helping the team out on key third down situations. I can imagine it being tough to see other guys get more reps and big play opportunities but Neil still brings his A game no matter what Fesi Sitake and Aaron Roderick ask of him.
5) Payton Wilgar
A defensive player showing up in the right place at the right time? Of course it was Payton Wilgar. His first half interception really helped BYU keep this one close when the Baylor offense was starting to click in the first half. The fourth down pass from Gerry Bohanon was ill-advised but still BYU doesn't get the ball back unless Wilgar is diligent in making his drop into pass coverage. It's a pleasure to watch him play and hopefully he can help rally the defense for a better performance in the second half of the season.
4) Isaac Rex
Am I putting Brother Rex this high on the Power Rankings because he caught a few passes without reaching the end zone, helping my wallet out in the season long-wager that I have going? Why would you think that? PREPOSTEROUS! Isaac did have a decent game catching the ball and had the highest PFF grade for run blocking (even if that's a result of a very poor performance from the rest of the offensive line). Here's to more passes coming his way and better blocking to clear the way for TA and company.
3) Jaren Hall
Shoutout to all the Jaren Hall Haters who quickly did some backtracking on Saturday after he put up some decent passing numbers, along with a delightful 56 yard touchdown scamper that produced one of the greatest Kalani sideline moments in his career. And before you come at me with the "BUT ALL OF THOSE DEEP PASSES WERE UNDER THROW", just remember that they were still completed passes. 2020 was special in that we had a magician of a quarterback in Zach Wilson who could deliver the deep ball with the best of them. It's not always going to look great but so long as our guys are catching his passes I'll be content with Jaren at QB1.
**Extremely Sergei from The Wire voice**
"Was the pass thrown to Gunner Romney? Was it in his general direction? Yes? Then of course he caught it."
1) Puka Nacua
Nothing I say here will be able to quantify or summarize the dominant performance from Bother Nacua on Saturday. It was magnificent and I was glad that I got to witness it on the television in high definition.